Smart Database, Server and Website Monitoring and Capacity planning System for Oracle, SQL Server, MySQL, DB2,PostgreSQL, and Hadoop

Cerberus is an intelligent database, server and website monitoring, management, capacity planning and reporting system that increases its ability to prevent problems from happening by learning your system over time. CERBERUS optimizes performance and maximizes up-time by delivering secure, proactive monitoring; and by assisting with administration of databases, servers, applications, and websites. It provides one point of control for heterogeneous environments, and creates a common point of reference for IT and business functions teams. To request a Cerberus demonstration click here:Demo Login
scope
Works with Oracle, MySQL, SQL Server, DB2,PostgreSQL, and Hadoop - all (manufacturer supported) versions
Runs on all operating systems and hardware platforms, including Solaris, Linux, Windows (NT, 2000, XP,2003), Irix, HPUX, True64, AIX , others.
Supports monitoring of ERP applications, including Oracle Applications (Release 11 and 11i)
Supports monitoring of custom-build applications and scripts.
Allows for monitoring of specific areas, including Oracle partitions, RAC, Stand-by databases,Streams, other
Supports website monitoring for availability and performance
options
Security audit on databases and application running on a continuous cycle
Stand-by database and back-up monitoring
Website availability monitoring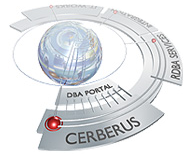 functionalities
24x7 proactive monitoring for latent and current problems
Secure global access to the monitored information from everywhere
One point of control for heterogeneous environments
Exhaustive reporting on the current and historical states of the monitored system
Capacity planning, maintenance scheduling and cost analysis
Configuration change management assistance
Document management assistance
Aligning IT Function with Business Goals
Many IT departments find it challenging to proactively communicate IT successes to users and managers alike. To help your IT organization maintain and communicate its top performance, CERBERUS delivers a suite of features that utilize performance data for resource allocation, and translates it into on-demand comprehensive reporting:
On-demand real time and historic reporting assures accountability and continuity
Hardware allocation for future loads is modeled through analysis of current use, performance history, and behavioral trends
Capacity planning function utilizes historical data and minimizes testing costs
Maintenance scheduling function optimize the time window for the downtime
Cost analysis function streamlines resource modeling
Configuration Change Management option compares configuration on any two monitored databases, servers, or hardware, and generates reports.
Security Audit option runs scheduled audits of security policy compliance, and alerts designated personnel to potential violations.


Smart Non-Invasive Diagnostics
CERBERUS runs continuous, non-invasive diagnostics on the state of your database system, and analyses it for problems and trends. Analytical function improves preventive quality of monitoring over time, and learns to identify latent problems. The monitoring agent is a schedulable application, which consumes negligible system resources. It is lightweight, and not CPU or I/O intensive. It does not create additional objects in your database or generate heavy traffic on your network.

Security and Access
Cerberus monitoring system is unique in the way it deals with security and connectivity. Secure design requires no holes in your firewalls for remote access (Electronic Signature Act compliant), while allowing authorized access from anywhere any time. The gathered data is encrypted upon transmission, analyzed, and then made available to authorized users on the designated website.

Work Flow
CERBERUS optimizes administration time by creating prioritized lists of current and pending tasks and by recommending solutions. It puts your IT documentation at your fingertips and lets you manage and share it.

Global Access to Monitoring Information
Secure, protected website provides access to monitoring information from anywhere anytime, on site or off site.

Advanced Notification
Customizable escalation notification system alerts DBA and the designated team to potential and current problems. It utilizes both current and historical data collected on the database, and provides DBAs with regular and emergency notifications. The notifications are based on statistical analysis as well as acute data, and can signal latent problems before they develop.

For more information please call 650 288-1701 or fill out SATS Cerberus Contact form.